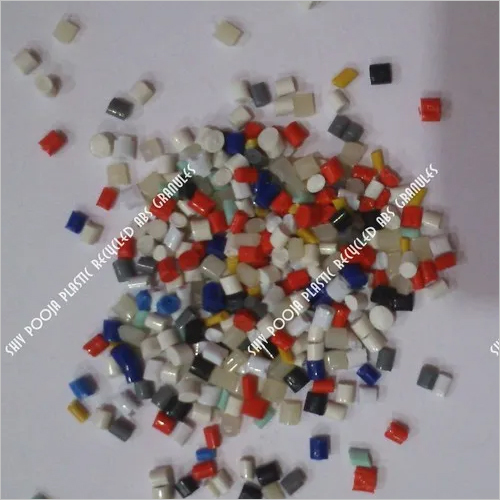 recycled abs granules
Product Description
Capitalizing on our years of knowledge of this domain, we have become a noteworthy manufacturer and supplier of Recycled Abs Granules. Broadly used by automobile industry for manufacturing instruments, panels, dusters, wheel covers and other spare parts, these granules are processed by a team of diligent employees to ensure optimum quality. These granules are available in different colors and quantities to ensure full client contentment. Offered Recycled Abs Granules are acclaimed by clients due to their following attributes:

High thermal stability
Impact resistant
Lightweight
Better stress cracking resistant
Other details:

SHIV POOJA PLASTIC
Mr. Rohtash Bagoriya
Mobile : +91-9999600107 / 09650086179 / 09136611110
Recycled Abs Granules
Shiv Pooja Plastic is leading Manufacturer and supplier of Wide range of Abs granules in diffrent colours like Natural, white , back ,red, milky , yellow blue , cherry, etc
We are Manufacturer of ABS Plastic Raw Material. We manufacture quality ABS (Acrylonitrile butadiene styrene.) It is mainly used in manufacturing instruments, dusters, panels wheel covers, connectors and other spare parts. Our product is used mainly by automobile industry
Reprocessed ABS:
We are one of the most successful organizations in producing ABS, (Acrylonitrile Butadiene Styrene). It has thermal stability, impact resistance and it is available in a variety of different colors. These can be used in:Instruments clusters and panels - Wheel covers - Radiator grilles
- Lamp-housings - Satellite dish antennas - TV back-plates - Switches ,etc
- Cosmetics parts
- Ventilation and air-conditioning parts
- Pipes
- Fittings
We produce ABS black as follows

a) Next to virgin quality. Double 60 filteration.
WIll give good strength and suitable for moulding. Material has good gloss

b) We also offer a second grade which can be used for small mouldings only. Double 60 filteration
- High Impact strength
- UV resistance
- High quality surface finish
- Good impact performance.

Appliances:
1) Appliance control panels:
- Good heat performance
- Good color stability
- UV resistance
- High quality aesthetics

2) Housing (shavers, vacuum cleaners, food processor)
- Good process ability (high flow)
- Practical impact strength.
We are instrumental in providing superior quality Plastic Recycled ABS Granules FR to the valued clients. The ABS Granules FR range is fabricated by using superior quality raw material. Formulated with the best composition, the Plastic Recycled ABS Granules FR range is high on demand in the market.

Availability In Various :