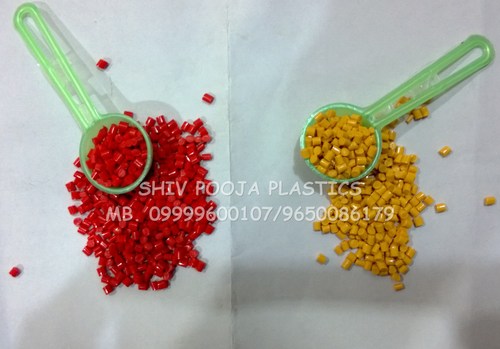 red and yellow abs granules
Product Description
With our firm commitment towards quality, we have become a distinctive manufacturer and supplier of Red And Yellow Abs Granules. Processed in tandem with set industry guidelines and standards laid in the industry, these granules are used in variegated industries like automobile, plastic and electrical for making useful articles. Stand high on quality, these granules are available in different sizes and quantities as per the clients' needs. Offered Red And Yellow Abs Granules are known in the market due to their features that are listed below:


High heat resistant
Chemical resistant
Easy to process

High material content
Other details:

We are manufacturer of recycled red & Yellow Abs plastic granules or recycled Z plus Abs plastic Dana.
In Abs granules abs stands for Acrylonitrile butadiene styrene it is plastic chemical code name and this plastic chemical is used among the most common plastic product as we see our nearby.


We Shiv Pooja Plastics are the leading manufacturer of abs granules /Abs Dana. We are in this from past 25 years. We have acquired best experience of manufacturing abs granules using the latest technology and expert method. We provide wide range of verities in abs granules of best quality. Our main motto is quality assurance and we are fully committed to it.
Our products are mostly used for manufacturing and molding, a manufacturer who need strength, fire resistance, shining, glorious colures, density, hardness; Etc uses fine quality of abs granules (abs Dana). Most of the customers prefer our product as we provide finest quality of Abs granules.
These properties are most commonly used in products like cabinets of computer or TV, keyboards, telephone, fruits mixture grinder, pipe, electronics products (switches, board,). Automobile products, house hold products etc.
A red & Yellow Abs granule is most common product that we provide we manufacture finest quality of red & Yellow abs granules. its our specialty to make best red & Yellow abs granules and provide best satisfaction to our customer. We have plant waste material and next to virgin material for manufacturing red & Yellow granules, red & Yellow Abs granules .which is widely required for industrial uses.
Our specialties in red & Yellow Abs granules or red & Yellow Abs Dana.
The granules that we provide have maximum properties of virgin products of abs granules in different colors wastes in Natural, White color, Red Yellow, Blue, Etc and our abs plastic wastes are next to virgin and second time recycled products only and brought by expert in this plastic recycling field, on the other hand our plastic wastes are different from others like we uses next to virgin wastes , plant wastes, and we have team of experts who buys this wastes from different sources of this market to provide you best quality products.